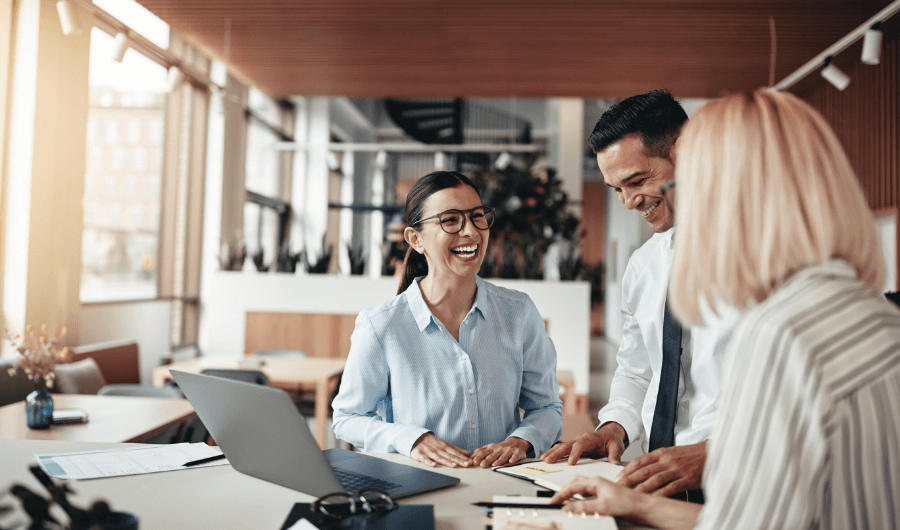 Careers
Work with us!
Build a rewarding career in a fast-paced, entrepreneurial environment alongside some of the most accomplished professionals in the industry. At Magenta, we believe that your individual experience and growth as a team member is essential to our shared success!
Our culture
We're guided by a clear
set of values
We've cultivated a supportive and caring environment built around our core values of honesty, accountability, and trust. As an equal opportunity employer, we treat each other with respect, a sense of family values and mutual inspiration for the future. Our sense of shared purpose drives us to be the best we can be every day. We are always looking for better ways of doing things, fresh thinking, and unique skills.
Great Place To Work Certified.  Recognizing employers who create an outstanding employee experience and an amazing workplace culture.
Benefits of working at Magenta
At Magenta, we care about your tomorrow, and here are just some of the ways we set you up for success:
A competitive compensation package
Profit sharing and performance-based variable compensation
Professional development opportunities, including continuing education
Industry-leading benefits package for you and your family
A remote-first approach that help you achieve a greater work-life balance
Why our people love coming to work
The entrepreneurial spirit at Magenta is so refreshing. New ideas are encouraged and supported across all levels, making every success feel like a true team effort.
Molly
Associate Vice-President, Operations
Working with Magenta has been an enriching and transformative experience. It not only provides a platform for professional fulfillment but has also nurtured a healthy work-life balance and a truly collaborative and inclusive culture, which has been invaluable to my overall well-being. I am fortunate to be surrounded by talented and friendly colleagues who inspire and support me every step of the way. Being part of the Magenta culture, that actively embraces positive change and innovation, has been instrumental in instilling in me a sense of purpose and belonging.
Over the past eight years, I have been able to develop my skills and broaden my knowledge ensuring the best for our customers. I'm grateful for the professional growth and relationships that I have built alongside my colleagues.
Joanna
Team Lead, Renewals
Opportunities
Open positions
Executive Assistant
About Your Role
The Executive Assistant reports directly to the COO and is responsible for managing an active calendar of appointments, completing expense reports, composing, and preparing correspondence and arranging detailed travel plans including itineraries and agendas. Absolute confidentiality, integrity and professionalism is required in addition to expertise in Office programs such as PowerPoint, Word, and Excel. Your goal is to optimize the use of the COO's time based on direction, priorities, and your own superior judgment. This position works closely with the Senior Leadership Team.
What you'll work on:
Completes a broad variety of administrative tasks for the COO and Special Assignments
Completes expense reports
Plans, coordinates, and ensures the COO's schedule is followed, respected, and stays on time
Receives incoming communications or memos on behalf of senior staff, reviews content, determines importance and summarizes and/or distributes content to appropriate staff
Coordinates reporting requirements for senior level managers to fulfill recurring reporting requirements (i.e. AOP, MOR etc.) to ensure all deadlines are met
Provides a bridge for smooth communications between the COO's office and other departments
Assists the COO by gathering data, creating, and compiling reports, writing memorandums and other internal communications and more.
Click on the link below to find the full job description.
Apply Today